Joshua P. Warren proudly presents

CreepyVegas.com
Las Vegas Ghost Tours! UFOs! Monsters! & ESP Gambling Secret!
Warren has been seen on: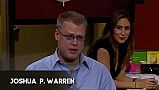 A 60-minute Walking Tour for All Ages! Only $19.95 per soul & FREE for ages 8 and under!
Saturdays at 6pm! OR:

Email us to request a special date/time: contact@CreepyVegas.com
We meet across the street from Zak Bagans' THE HAUNTED MUSEUM!

Take our tour then cross the street to Zak's musuem for the ULTIMATE COMBO experience!

(We are separate businesses, though, so you must must make separate reservations.)

We'll even stroll by the world-famous PAWN STARS shop for a photo op!

We meet at the 5th Avenue Pub! You can enter if you're 21 or older. Otherwise, please wait outside.
---
We ONLY take online reservations & we SELL OUT fast! So . . .
---

You will be PERSONALLY guided by native son & Vegas legend Nick Weird!

See stunning images on your easy stroll as he masterfully tells stories about:

* The most spine-chilling ghosts in Vegas!

*How to turn your body into a "ghost meter" & take ghost pics on the tour!

* Close encounters with UFOs & Area 51!

* Horrible mob crimes & what inspired a serial killer!

* Local reports of bigfoot, goblins, and other strange creatures!

* The Vegas Time Warp!

* The crazy history of Nevada!

* And, of course, your ESP gambling secret!
---
$19.95 per person, and ages 8 & under FREE!

We ONLY take online reservations & we SELL OUT fast! So . . .
* We don't make printed tickets. You will receive an automated email confirming your booking (so use your correct email address), then just give your name when you show up.
* This walking tour lasts approx. 60 minutes and is approx. 0.5 mile on flat, even ground. It is fine for wheelchairs.
* We run rain or shine, so no refunds will be given if you do not show up due to weather. Bring an umbrella if necessary.
* Dogs on a leash are fine, but they cannot enter buildings.
* You may cancel and receive a refund up until 24 hours before tour time.
* Please show up at least 10 minutes before tour time. No refunds if you are late. Remember that you must be 21 to enter the Pub. Otherwise, please wait outside.
*There is free parking available at the 5th Avenue Pub. Otherwise, behind the pub there are numerous parking spots you can get for a small fee, or free, depending on the day and time.
---
Meeting Location:

The 5th Avenue Pub
906 S 6th St #104
Las Vegas, NV 89101

Pub Phone: (702) 385-5000
---
contact@CreepyVegas.com

Copyright © 2019 by Joshua P. Warren & Haunted Asheville, LLC