Joshua P. Warren proudly presents

CreepyVegas.com

Ghost & UFO Show!

60 FUN, Paranormal Minutes in a Bar!

See AMAZING pics, touch some of the world's most haunted items & learn an ESP gambling secret!

* NEW!: See Strange Crash Debris from Roswell Up-Close & Personal! *

Warren has been seen on: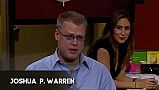 Enjoy an adult beverage as you absorb this presentation of REAL phenomena from Nevada.

Ages 21+ Only. $19.95 per soul! (Drinks not included.)
Saturdays at 7pm! OR:

Email us to request a special date/time: contact@CreepyVegas.com
We are within walking distance of Zak Bagans' THE HAUNTED MUSEUM!

The show is at the "Gallery" of the Millennium Fandom Bar.
---
We ONLY take online reservations & we SELL OUT fast! So . . .
See stunning images as he masterfully tells TRUE stories about:
* The most spine-chilling ghosts in Vegas!
*How to turn your body into a "ghost meter" & take ghost pics!
* Close encounters with UFOs & Area 51!
* Horrible mob crimes & what inspired a serial killer!
* Local reports of bigfoot, goblins, and other strange creatures!
* The Vegas Time Warp!
* The crazy history of Nevada!
* And, of course, your ESP gambling secret!
* PLUS, touch some of the most haunted objects in the WORLD & see Roswell debris!
---
$19.95 per person

We ONLY take online reservations & we SELL OUT fast! So . . .

Listen to Joshua P. Warren discuss the Roswell Debris you will see:
Here's the video he references:
* We don't make printed tickets. You will receive an automated email confirming your booking (so use your correct email address), then just give your name when you show up.
* Dogs are not allowed.
* You may cancel and receive a refund up until 24 hours before tour time.
* Please show up at least 10 minutes before show time. No refunds if you are late. Please wait outside if the door is not yet open.
*There is free parking available in the area and in the lot across the street for a small fee.
---
Meeting Location:

Millennium Fandom Bar
900 S Las Vegas Blvd #140
Las Vegas, NV 89101

Bar Phone: (702) 405-0816
---
contact@CreepyVegas.com

Copyright © 2019 by Joshua P. Warren & Haunted Asheville, LLC