DUE TO FLOODING ISSUES, THE ASHEVILLE MYSTERY MUSEUM IS PERMANENTLY CLOSED. IT HAS BEEN DISASSEMBLED.

However, you can still take the Haunted Asheville Tour at:

http://www.HauntedAsheville.com

* THIS PAGE REMAINS UP FOR ARCHIVAL PURPOSES ONLY *

+++++++++++++++++++++++++++++++++++++++++++++++++


In the Basement of the 1913 Asheville Masonic Temple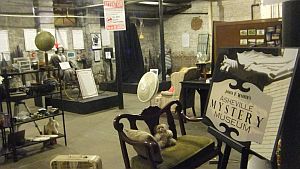 This private collection is only available when you take our
famous Haunted Asheville tours. Tours usually run every weekend.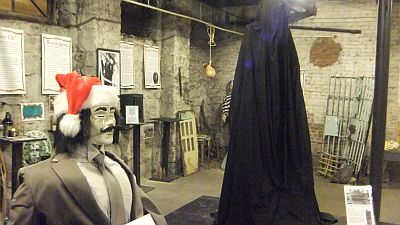 When you enter the basement of the Masonic Temple, you will learn about:
~ The story of the hangings in our town
~ Asheville's bizarre mummy
~Asheville & the Hope Diamond
~ Our largest mass murder killing spree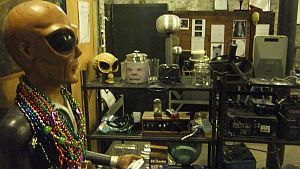 ~ Bootlegging & why Asheville is called "Beer City"
~ The Battle of Asheville and Civil War history
~ WW2 and our Memphis Belle history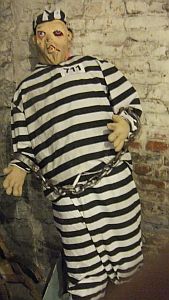 ~ The brutal Helen Clevenger murder
~ The mysterious Brown Mountain Lights
~ The "Ghoul" that terrorized men in the Old Jail
~ Great Depression Suicides at the Jackson Building
* Pink Lady of the Grove Park Inn
* Bigfoot casts
* Haunted Dolls
* Our gallery of full-bodied apparitions
* And take your photo with the world's ONLY life-size model of the chilling Newby Phantom

This ever-growing collection is the first, and only, of its kind in our city, the Land of the Sky
---
If you want to schedule a walking tour and visit this private collection, you must email us at: contact@HauntedAsheville.com for details
Located at the:
Asheville Masonic Temple
80 Broadway Street
Asheville, NC 28801

Click HERE for directions.

Parking is available directly beside the building for a small fee.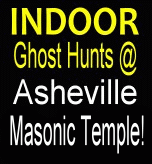 Copyright 2010-2016 by Shadowbox Enterprises, LLC